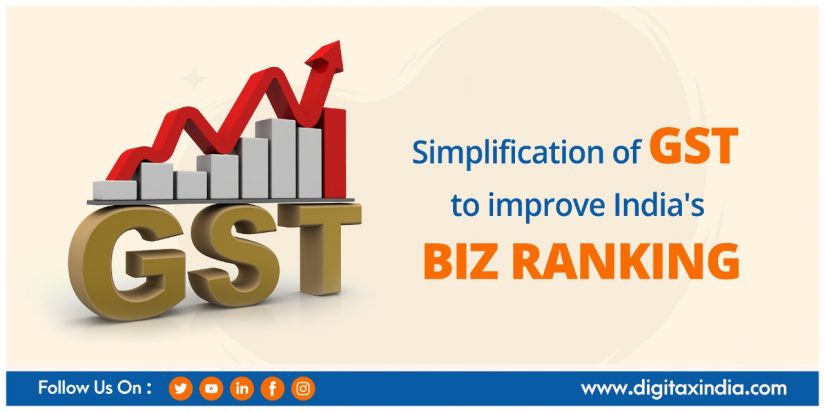 On October 31, 2019
GST, GST Updates, GSTNews
India has jumped 14 places to the 63rd position on the World Bank's ease of doing business ranking. After witnessing the performance, industrial sector oozed confidence that India will climb the ladder farther and soon will be among the top 50 nations on the World Bank's 'Doing Business' 2020 report.
The ranking has only been improved due to the reforms taken in insolvency, taxation and other areas. Now, the government is planning to have more reforms to be within 50countries of ease of doing business index. It has already started with the taxation area.
Union Finance Minister Nirmala Sitharaman has assured that more efforts will be made to simplify Goods and Services Tax to further improve India's ranking in World Bank's "Doing Business" report. This can only be achieved if the states too will make equal and combined efforts in improving the business climate in India. However, if correct measures and efforts are not taken in property registration then India might sabotage its position in ease of doing business index. 
As per Chief Economic Adviser Krishnamurthy Subramanian, the current outreach programme being initiated by banks has helped a lot in improving credit access to the MSME sector. Moreover, the implementation of Insolvency and Bankruptcy Code(IBC) has also played a big role in achieving India's new ranking. 
This year the World Bank has only taken Delhi and Mumbai into account but in the next ranking, the business climate of Kolkata and Bengaluru will also be in its radar. 
The report has served as a catalyst for everyone and with the further simplification of GST, India will soon be termed as one of the best countries to do business. After its implementation, GST laws have been changing and becoming more flexible to benefit the mass. The anti-profiteering rulings and cut downs in GST rates have helped in making it uncomplicated and easy to understand.
The government, as well as the country, is looking forward to simplified GST and improved biz ranking.