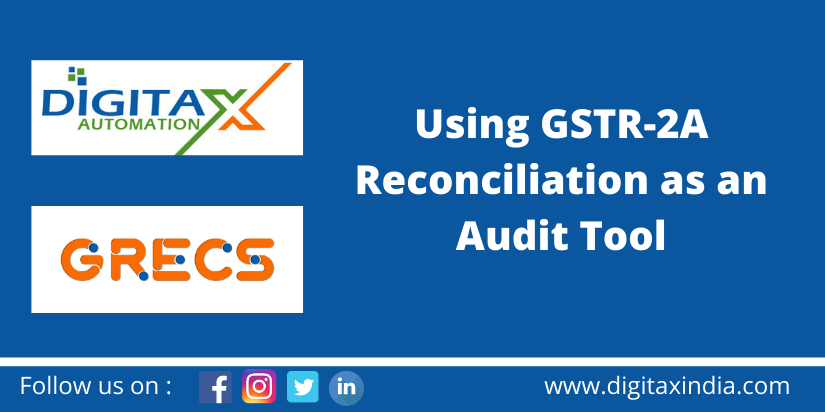 On October 7, 2020
Audit tool, GST Matching, GSTR-2A Reconcilation, Input Tax credit
Recently one of our clients shared a very interesting story. He got an assignment to complete the audit of a private limited company within a short period. He used Digitax G-RECS as an audit tool to finalise the audit within such specified period. Here it is how he has done it?
The company had 80% of its expenses as GST input expenses. Being a service company, it was quite important to vouch for all such expenses. In this period of COVID-19 where movement is quite limited, he used the GSTR-2A reconciliation as the vouching tool for completing the audit.
He got the GST Input Tax Credit register from the client and used Digitax G-RECS for reconciling the full-year data. He was able to do so within hours.
After matching the GSTR-2A data with the GST input tax register of the company, he was able to vouch for 80% of the companies expenses with reasonable certainty that such expenses are genuine and validly claimed.
He was able to find the unclaimed credit on bank charges paid by the company which was more than double the amount of audit fees charged by him. In effect for the client, the auditor has recovered twice the amount of audit costs to the company.
The focus of the auditor remained on the accounts which are not matching with GSTR-2A data and he was able to suggest many points of correction to the client which he was quite happy to implement.
From this case, it can be seen that the GSTR-2A reconciliation is a very powerful tool to finalise the audit for the professionals. As the time period for completion of the audit seems shrinking forever, with the help of a good tool, it is quite possible to complete the audit in an effective and efficient manner.
With our user-friendly GST credit reconciliation tool Digitax G-RECS, it will be quite easy for the professionals to reconcile the GST Input tax credit.
To know more about this product you can contact us over mail on support@digitaxindia.com.