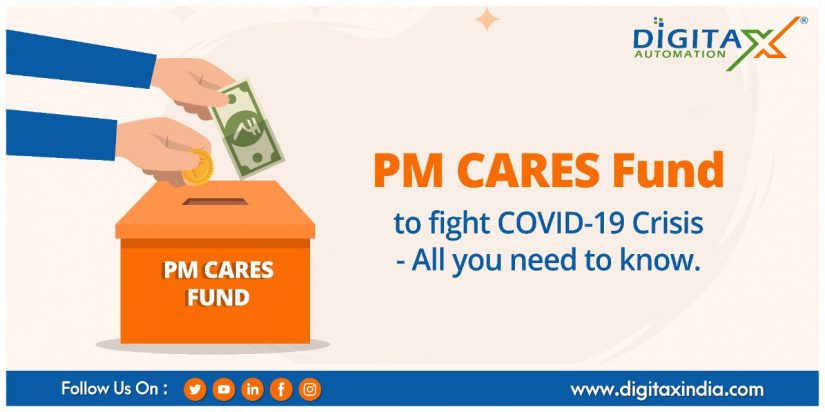 On April 9, 2020
Coronavirus, COVID19, COVID19 Pandemic, PM CARES Fund
About The Fund
The name of the fund i.e. PM cares stands for "Prime Minister's Citizen Assistance and Relief in Emergency Situations Fund'. The fund is being set up to fight the crisis that has occurred as a result of the current pandemic – COVID19. The prime minister will be the chairman of this trust that aims to utilise the donations in various other disastrous situations in future.
Why we recommend donating in PM CARES Fund:
There can be many reasons to donate in this fund but the most important ones are here.
The fund has sole is envisaged especially to carry out COVID-19 relief practices.
You will have this chance of availing 100% Tax benefit u/s 80G without 10% restriction. So when you will be donating a respective amount in the fund that amount will get reduced from your taxable income when the tax will be calculated thereafter.
You can make donations till 30-06-2020 and can claim benefits under section 80G for the financial year 2019-2020.
Companies that are willing to donate now in this fund can get extra benefits also. As the donations will also be applicable for CSR purposes under the Companies Act.
This will help the government in providing the best services to all the doctors who are facing the threat from very close enough.
The minimum donation in the fund is Rs. 10. This minimum limit gives an opportunity to every citizen irrespective of their economic status to donate towards a good cause.
How to donate in PM CARES Fund:
Donate through cheque or demand draft by in the nearest branch of your bank.
Donate through debit cards, net banking and UPI by following the link provided on PM India portal (Govt of India portal).
You can also donate through applications like PAYTM, BHIM etc.
For making offline payments you can contact the nearest branch of your bank.
To know more about this fund you can check out the following websites also.
About PM Cares Fund – https://www.pmindia.gov.in/en/about-pm-cares-fund/
Press release on PIB website: https://pib.gov.in/PressReleseDetail.aspx?PRID=1609734
Let's come forward to strengthen our nation in these difficult times because together we will win this fight with COVID19. Moreover, take care of yourself and your loved ones at home.